JOHN LLOYD YOUNG
WITH MIKE MILLER
ON THE HARMONY STREET SHOW ™
BACKSTAGE AT JERSEY BOYS ON BROADWAY CONGRATULATING JOHN ON A GREAT PERFORMANCE
After moving to New York, Young worked his way up through the ranks of the theater scene with roles in numerous regional and off-Broadway plays including the New York-area premiere of Michael Healey's The Drawer Boy with actor John Mahoney; "Charlie" in Julia Jordan's The Summer of the Swans; "Moritz" in the Douglas Langworthy translation of Wedekind's Spring Awakening; and "Claudio" in Rinne Groff's The Five Hysterical Girls Theorem for the Target Margin Theatre.
He was named one of the Best Featured Actors in a Play by the New Jersey Star-Ledger as "Danny Saunders" in Aaron Posner and Chaim Potok's dramatic adaptation of Potok's book, The Chosen, opposite Theodore Bikel, directed by David Ellenstein.[citation needed]
He failed to land the part of Frankie Valli in the pre-Broadway run of Jersey Boys, but a year later and after several more auditions, he was asked to headline the show on Broadway, where he played the role for over two years. During his tenure at Jersey Boys, which now has several companies playing worldwide, Young performed at the White House, Carnegie Hall, Radio City Music Hall, the New York City Marathon, New Year's Eve in Times Square, Yankee Stadium, and Macy's Thanksgiving Day Parade. Young's run with Jersey Boys concluded on 9 November 2007,[8][9] followed shortly thereafter by a sold-out-in-a-day solo concert debut at Lincoln Center.
After moving to Los Angeles, Young starred as Marius in an all-star production of Les Misérables at the Hollywood Bowl and was the first guest star ever invited to appear on Glee.
John Lloyd Young debuted his visual art in May 2010 in "Food for Thought", a show benefiting AIDS Project Los Angeles, at Willis Wonderland, the home of Young's friend, Grammy-winning songwriter Allee Willis. Young's art is represented by Hollywood's Hamilton-Selway Fine Art Gallery. His first art commission was for famed Beverly Hills, CA, restaurant, Spago.
Young's debut album, "My Turn...", was released on July 3, 2012. The album was executive-produced by Dona R. Miller and Young's Under the Skyway Productions, with production from Tommy Faragher of Fox's hit show, GLEE, whose cover of "Teenage Dream" was the first song from the show to reach #1 on the Billboard Charts. The album was expanded and re-released with eight new tracks in 2014.
He made his debut at New York's Cafe Carlyle in February 2013. Young reprised his Frankie Valli role in the Broadway production of Jersey Boys for several months in 2013. In March 2014, Young made his West End Theatre debut, starring in the musical's London production. He reprised the role in director Clint Eastwood's film adaptation of Jersey Boys, which was released in June 2014.
Young's extensive charity work includes frequent appearances with and support of Broadway Cares/Equity Fights AIDS, Cystic Fibrosis Foundation, amfAR, Paul Newman's Hole in the Wall Gang, AIDS Project Los Angeles, and the United Service Organization (USO). Young has been a member of the American Civil Liberties Union since 1995.
Awards and nominations
Tony Awards
Winner - 2006 Best Actor in a Musical Jersey Boys
Drama Desk Awards
Winner - 2006 Best Actor in a Musical Jersey Boys
Outer Critics Circle Awards
Winner - 2006 Best Actor in a Musical Jersey Boys
Theatre World Awards
Winner - 2006 Outstanding Broadway Debut Jersey Boys
Grammy Awards
Winner - 2006 Best Show Album Jersey Boys
Drama League Award
Nomination - 2006 Performer of the Year Jersey Boys
Hi Mike,
Thank you for your wonderful interview with John Lloyd Young. I've listened to it four times and have enjoyed it more with each listen. It was so beautifully constructed with the Jersey Boys clips and the wonderful album cuts interspersed. John Lloyd is an amazingly talented and insightful man. The Mel Carter interaction was such a treat. So great to hear John Lloyd reacting to Mel as I would if I ever had the opportunity to meet him. Thank you so much for putting this phenomenal interview together.
Take Care,
Brenda Wilson
OK Mike...I got about an hour through the interview so far and wish I could call in sick to work, but I don't think my boss would appreciate that. :o) (what this starving writer does to make ends meet...working part time in a bookstore and slinging lattes in the café...LOL) I can't wait to hear the rest of this - hands down the best interview I've heard so far and I've gone through a lot of them. All of the insights into the show and movie, plus into the songs just inspire me so much. I've been going through such a depression/creative slump - up until this Jersey Boys movie and discovering JLY (I only wish I could have seen it on Broadway as well) and it's like I'm re-energized and inspired all over again, getting creative and making progress with my passions...between the Four Seasons story and the story of JLY's career so far I'm getting just the push I need to get out of this slump. Thank you for sending me the download because I know I will listen to it over and over again. And thank you for letting me spill my guts here to you. :o) I will listen to the rest after work and let you know how I like it later tonight...which I know I will love!
Marie Cauley
Mike,
There is only one word to describe this interview: WOW!!!
As big as John Lloyd is, he's very humble and really. No BS in this guy. He's a really a humble gentleman!
John Lloyd is a gulp of fresh air for the younger generation. And yes, he is dead right about the movie reaching all who could not see the Broadway show. Sue and I were very happy to see this film. He will win an Oscar. He deserves one.
Have you put this on your web site yet? If not, please let me know when, so I can send a few thousand people to listen.
Sue and I took a two and a half hour ride in our car just to listen to this. Incredible entertainment.
Mike, if you know when he will be here in Fl. please let us know.
Abie ( ABIE'S DOO WOP TAXI )
Susan Fairman We just listened to your fabulous interview and we loved it. Still listening to JLY music, he is so talented! I hope to see and hear of a lot more of him. Thanks for sharing this with us.
Joe Fiske: AWESOME ... Gotta tell ya ... Got an email from the Philippines asking me to confirm GMT times so they would not miss the JLY interview ... Well, here they are ... 2:00AM and 9:00AM GMT for our friends across BOTH ponds!!
Maryjo Lombardi: Just an amazing talent. Great Interview
Marsha Weisselberg Sarfaty: John Lloyd Young is terrific!!
Thank you Mike Miller,
For the wonderful interview you did with John Lloyd Young. It will definitely help the rest of the world understand what a truly incredible rare talent John Lloyd Young is! He is one of those very few artists who has the ability to make his audience feel such an intense emotional connection to him that it makes them want to to completely transform their life. I guess you could say he has the potential to help transform the world by helping people become inspired to make necessary changes that they have been resisting.
There are not enough words to express how much I and the rest us who are part of John Lloyd Young Friends page admire and respect John and his talent. I believe he will have a long career ahead of him because of his talent, hard work and strength of character! He is one of those few individuals you can truly say are classy in all they do. So far I have listened to your interview at least 8 times and in fact I am listening to it again. I have seen the movie at least 15 times!
I am looking forward to seeing what the future will bring in regard to his various projects. Mike could you please let John know that we admire his acting, singing and artistic skills that bring such joy to us. In the end, you could say that John is what people call the total package because he has talent, intelligence, class, wit and charm is not used simply for himself but also for the benefit of those who are less fortunate. I especially like his philosophy of life that includes going with the flow.
Yours truly,
Vera C. Beert
Dear Mike,
I didn't know about your show until just recently, but I will definitely be listening in again in the future. I'm originally from your neck of the woods and lived in Boca for 10 years, and I now live in Vegas. I want to thank you so much for putting together the remarkable interview with John Lloyd Young and for making it available online. Initially I thought it might be difficult to sit through a 2-hour interview, but it was so well-constructed, well-paced, and engaging that I didn't want it to end. The combination of the interaction between you and JLY, the visit with Mel Carter, and the addition of music from both his My Turn CD and Jersey Boys, was delightful.
With regard to My Turn -- which I listen to endlessly -- what better vehicle to spread the joy of these old standards than John Lloyd's stunningly beautiful voice. His decision to revive these classics will help this music to live on and introduce it to his generation and the generation that follows. His humility, generosity and grace in the face of so much success is truly a breath of fresh air. Please pass this on to him to let him know that those of us who are already fans believe he was put here to inspire and uplift as much as to sing, act, and create. The connection he makes with his audiences is extraordinary, and his talent is amazing. I've seen the Jersey Boys movie multiple times as have legions of his other fans. I believe we've only just begun to hear from John Lloyd Young, and you are helping to spread the word.
Sincerely,
Linda Bradley
Las Vegas, Nevada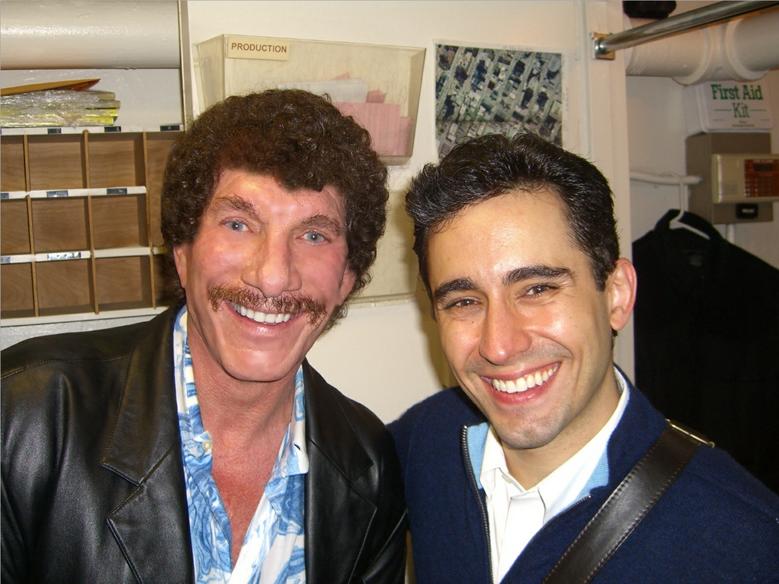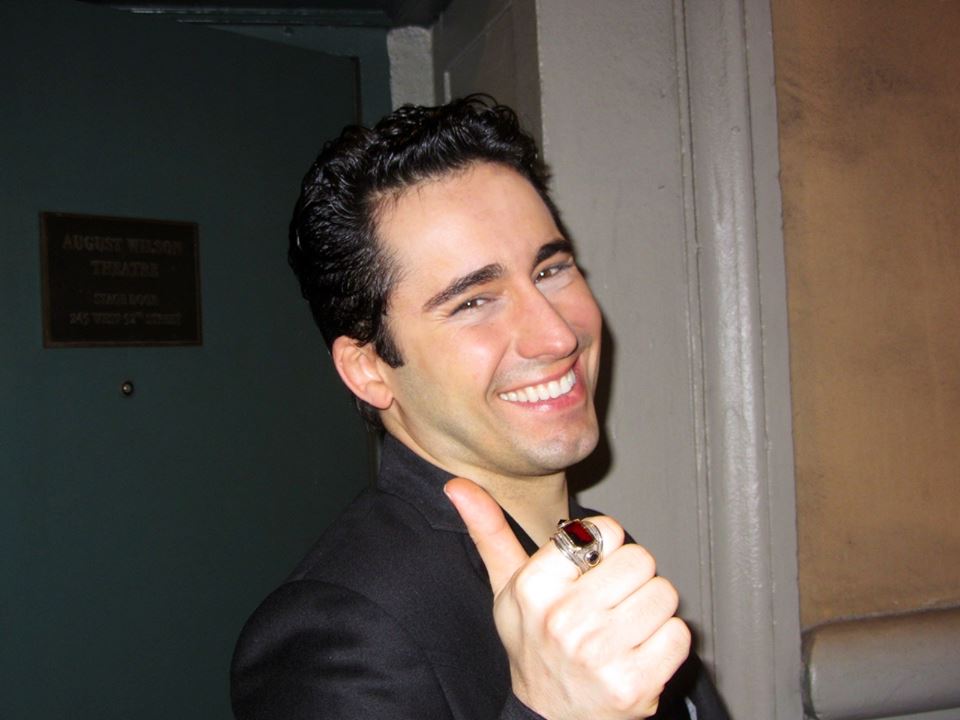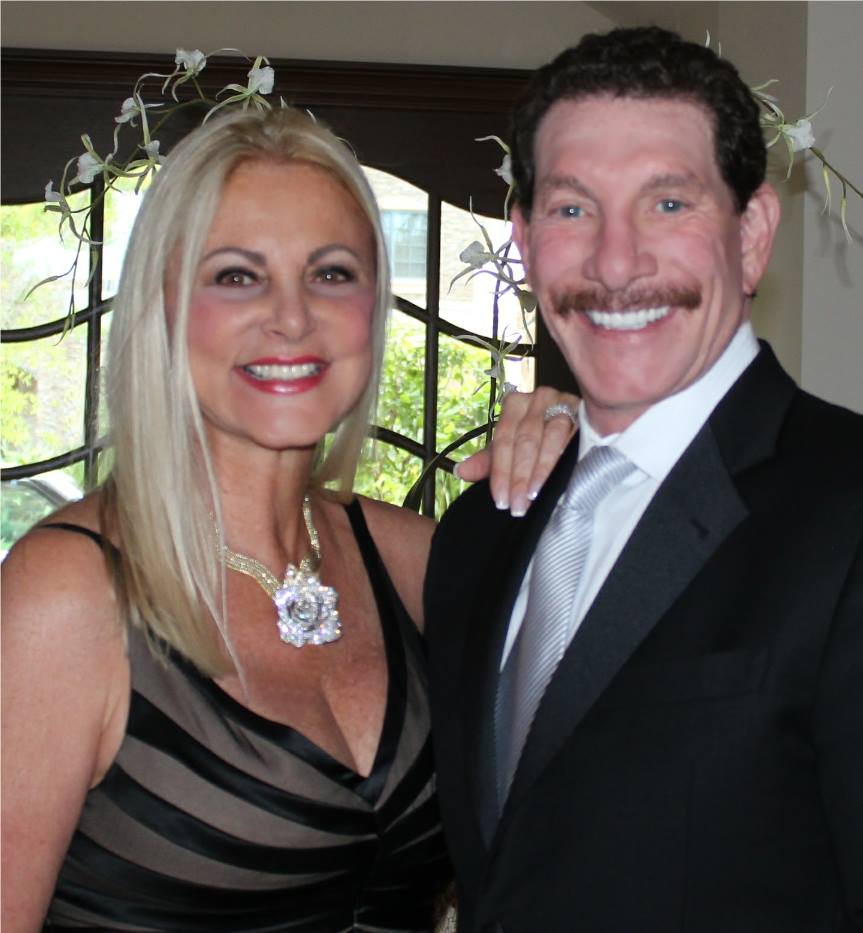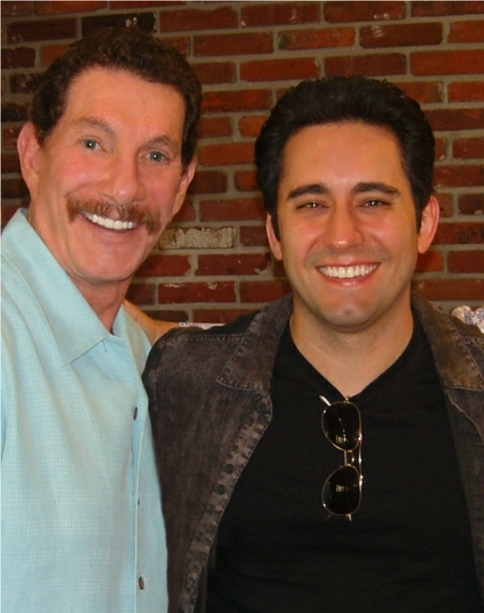 MIKEY, JOHN
& LITTLE ANTHONY
JOHN THANKS MIKE MILLER ON STAGE